Here comes another party theme for you… another party from our recent party catch up. This little fellow had a birthday a while ago but I never got around to his party. Small babies and parties don't mix so I waited until we were ready… what's six months between friends anyway!!! So here we go another book party, because favorite books are so easy to adapt to a party… And who better than Mr Magnolia by Quentin Blake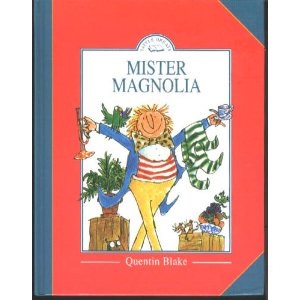 If you don't know Quentin Blake's Mr Magnolia then you haven't lived!!! Mr Magnolia is a bit of an eccentric that owns a whole heap of things, that all rhyme with boot. Two lovely sisters that play on the flute, a frog and a toad and a newt, some owls learning to hoot… but he has only one boot and this book is a lovely poem regarding his quest for another boot. Eventually he is surprised by a parcel at the door… Meanwhile he has so many possessions and does so many things that you are provided with heaps of material for partying. Here's our party preparation… two lovely scooters ready to go for a scoot…
Following the outline of se7en steps to a great party on our practical party page lets get going (If you need details on how to do something then follow the link for that particular step):
Step 1: Invitation: You can either color and print out some Quentin Blake cards here, or make a couple of boots and decorate them… or better still leave them ready to decorate and pop your party details on the back.
Step 2: Party Starter: The obvious thing to do with any book themed party is to read the story.
Step 3: Treasure Hunt: We went hunting for green parakeets to pick holes in our suits.
Step 4: Party Craft: We made old trumpets that go rooty-toot. In the same way that we made wonderful whimsical wizadry wands a couple of weeks ago. Only instead of skinny little wands we made great wide trumpets. We used larger sheets of paper… and when the glue dried we had a bunch of perfect crispy lumpy trumpets.
Step 5: Party Games: Everyone had a chance to dress up, with some parakeets pinned to their suit, and a bow tie, and a hat, and a boot and they went for a scoot.
Here they are in all their glory:
The plan was to have a relay race but that was way to complicated for the very excited crowd!!! So while they waited their turn they got too draw Mr Magnolia's Dinosaur – the Magnificent Brute.
Step 6: Party Pinata: This one was easy, Mr Magnolia gets a package in the last pages of the story…
A frantic game of pass the parcel:
Revealed a box of licorice shoelaces, some scooby doo "shoe laces" and a couple of crazy birds of the kind that flitter throughout the book.
Step 7: Party Food: And finally a boot cake…
That's it – quick and easy… Have Fun!