We stopped off for a run at Silvermine the other day… After three hours of gym the Hoods had a little bit of excitement to burn off. I know they are killing me in the most delightful way!!! Anyway nothing beats the great outdoors and I have to toss it into our day at every opportunity. In an effort to be slightly more spontaneous than the "School Mam that I am…" I try and drop by here when we drive past. No packing, no planning… just going with the flow and following the path where ever it leads until we are content with ourselves and can return home all filled up with wide-open spaces.
Some of us couldn't contain our joy…
There were "Pooh Sticks"…
There were teams…
And there was just such excitement!!!
So much so that I found a hill for them to dash up…
And down… again.
Just join the dots…

Up…
And dots…
And down again…
And again and again and again…
And finally we were calm enough to stop and smell the honey suckle:
Squish the squelchy aloes… looking for cuts and scrapes to treat…
Feel a feathery catepillar…
Examine the wintry flowers…
Compare the spikey:
And the hairy:
Wonder at the termites homes:
Knock on the crispy shell:
Feel the sand papery surface:
And see if anyone was home…
And finally hear the crunchy gravel underfoot…
And swing the shiny gate shut…
But the best part for me, wasn't so much the back of this head…
Or the curve of a little man's cheek…
It was this little trusting hand!!!
I can't believe how blessed I am to live with such sweetness!!!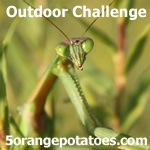 This Post  is part of The Thirty Minute Mom's Challenge at Steady Mom.