Well I know I love Simple Living Media and inhale their blog posts faster than they can publish them… and they are having a Five Week Project Simplify..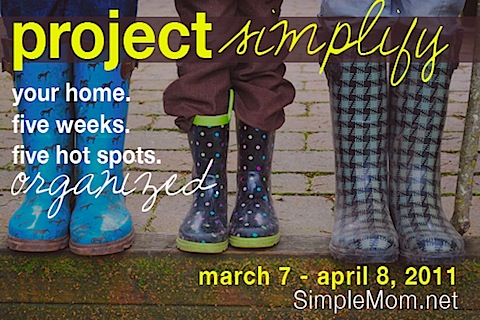 Well I decided that I am so happy with my 52 Weeks of Decluttering with the Organizing Junkie… that I wasn't going to get involved… not a bit of it. I would stand clear, turn the other cheek, not even glance. And then Project #1: was clearing out our closets. That's my own personal closet… I don't normally clear out my stuff, just everybody else's. So I fell for it, couldn't help myself!!! I knew it would take about five minutes!!! And someone did ask about our closets the other day. So… here's the closet:
Here's the thing when it comes to clothes I am a bit of a minimalist… just a tad!!! Keep in mind we have a two bedroom home and eight kids. Keep in mind that we live in Cape Town and on every street corner there is someone asking for clothes or food or anything, really. We live very close to the world of poverty and it is hard not to notice it tumbling over into the world of relative wealth. We just don't keep extra clothes because I know that there is a whole township full of people down the road from us, whose shacks burn down with monotonous regularity, people who barely earn a living wage and have kids to clothe and school and educate. So, while I don't giveaway nearly enough and I certainly don't donate everything… My conscience can not justify having more clothes than we do.
So this is my closet at it's absolute worst… it is a bit of a dump zone. A box jammed with precious artworks, two empty body shop jars and my secret supply of wet-wipes – if I leave them out then they get eaten by the wet-wipe monster. And behind the box are my clothes and one or two toys I may have removed from the mix because they were driving me nuts!!! What can I say a mother needs her space!!! As for clothes… Well that was easy enough to clean out because I am a firm believer in owning clothes that actually fit. And since my body has rearranged it's shape drastically every other year for the longest time I never have clothes longer than a couple of months in my closet. Also my body never seems to revert to its original shape!!! So there is no point in keeping clothes for when I am either pregnant or not pregnant again because what was a great fit probably won't ever be a great fit again… Always in my head is: if it doesn't fit someone else could be wearing it. I make sure I have a pair of jeans and a pair of leggings that fit well and a handful of shirts that can be worn in different layers… When I have worn an item till I can no longer stand it then I pass it on. It might sound extravagant to pass clothes on as soon as I am done with them but I know I am not going to wear them again. So if I don't love it I don't keep it. Seriously: Do you love it or not…
So removed the items that didn't really belong there and dropped three t-shirts and a pair of jeans into our donate box. And I can hear you saying… what about the winter… well I have a hoodie for when it's cold…
The only thing that really confused me was the two pairs of socks… since I live in ancient flip flops. Why do I need socks? Well everyone needs socks, so I kept them. Indulge me with my two pairs of socks!!! And I think maybe it's time for some fresh flops!!!
I know I am not the world's best dresser – lets not go there!!! But I can sort my clothes closet in about 5 minutes and the entire families clothes takes me about half an hour… sift out what isn't worn, neaten up and done… I do it every couple of weeks so it doesn't become too big a job. So how does it work? Everybody has a pair of jeans, a pair of trackpants and two pairs of shorts. Everybody has about four t-shirts and one sweatshirt and one fleece top. Everybody has a couple of pairs of undies and socks. That's it… Well the father person has enough shirts for work for me to leave them at the laundry for a fortnight and my girls have a rack of pretty dresses that they mostly get gifted with and can't be parted from!!! Anything more and something has to go out, there just isn't space.
Thank goodness for a warm climate. And a full load of laundry every other day!!! And that is Project Simplify for this week!!!