I know, put it down to a weekend away and being back in school but I am somewhat off the pace with posting… and my GiveAway Winner selectors are all fast asleep right now, so you will have to wait until tomorrow to discover our winner from last weeks GiveAway. So to level things out I thought I would throw in a midweek GiveAway just for kids…

"Best Mates" (Bob Hartman)
Bob Hartman is a master storyteller, I use his storytelling books a lot with my kids… anyway here is one written just for kids and it is great. I know my boys that are novice readers, who are just venturing into chapter books would love this book and would chortle their way through it!!! Bob Hartman can be really amusing and he holds nothing back in this book!!! It is about three clumsy and not always the brightest young men, who could have been friends with Jesus. These chaps get into all sort of pickles, not least a whole chapter where one of them has a piece of barley stuck up his nose. The story winds its way through Bible truths about Jesus and from the perspective of his nutty friends – who are baffled when the water they just drank has become great wine – it must be a miracle!!! It is a goofy, funny read… it would really appeal to my typical six and se7en year old boys and their ummm, nutty sense of humor, they would gobble it up and love it!!!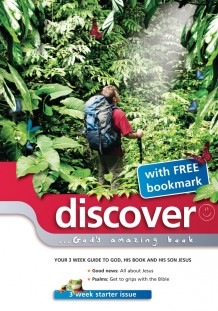 More seriously, and just because I am doing a mid-week GiveAway, I will add in a starter pack dive into the Bible with Discover notes taking a three week look at the book of Mark. Discover is great collection of day by day Bible notes for kids… Each day their is a Bible reading, a verse to remember, a puzzle, something to think about, something to act upon and finally something to pray about. These notes are great and thought provoking… Love them. You can read more about Discover Bible Reading Notes for kids at The Good Book.
As usual I have to thank CBD, our GiveAway book suppliers for another great book.

If you would like to win these books, then go ahead and enter our GiveAway. The GiveAway works in the usual way, comment before the end of this coming Sunday, 17 April 2011, and we will draw and publish the winner next week! – I won't respond to your comments as I do on our other posts because I don't want to be included in our own giveaway.
Our GiveAway Books are open to everyone: If you have won a GiveAway before never fear – enter away. If you live on the far side of the world – enter away. Postage takes forever from here but eventually it should get to you! Good luck and get commenting!!!