Last week I worked so hard on Project Simplify, I was swamped by sorting my way through myriads of itty bitty bits of boy stuff. I said I would deal with the girls goodies this week. I didn't. When I saw this weeks task I nearly quit!!! So I gave myself a break from sorting through endless stuff and dedicated myself to the fridge, which in our house is known as the cupboard.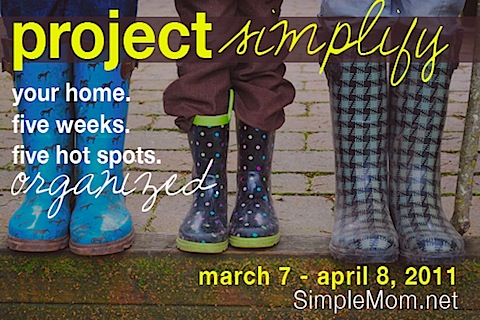 Well I have three words to say: I did it… where "it" is defrosting the freezer. It is possibly one of my worst tasks… my most loathsome tasks and I anticipate how awful it will be for weeks… weeks I say…
I watch the ice pack build and build… I study it… I gather anything that gets in it's way, lest said item gets swallowed up and consumed by the ice pack… And I wish the fridge away. Let's just say my fridge is not my favorite appliance… it is big, it is cumbersome and it freezes up constantly. Not to mention it is unnaturally full of condiments.

The father person loves condiments, and he has two small boys with the same passion to slather their food in condiments… Anyway while I loathe and detest defrosting, my kids love it!!! They know it is the day their mother will be totally distracted they will be able to ice-skate on the kitchen floor… and make dripping forts with wet towels. And heaps of ice play… ice bergs in the bath, ice mountains on the grass… ice chunks in the pool… ice just everywhere!!!
So meet my friend that got me through… a packet of salt!!! Salt makes ice melt faster so my kids take turns in tossing salt at the ice and listening to the snap, crackle and pop.
And then I have other water babies that toss water at the ice. And between the salt and the water the ice pretty quickly looked like this…
And then cleaned the beast out…
Packed up and done. And if it wasn't for Project Simplify I would never have done it… not before next summer anyway!!!
And here's our pantry… the sweet side:e
And the savory side.
We keep our flour in bins too… one for bread flour and one for "other" flour. Let's just say we had a bad experience with a mouse a couple of years back and one mouse is too many mice for me and we have kept our food in bins ever since. Anything else is stored in our tin collection… rice in the rice tin, sugar in the sugar tin,… tea in the tea tin and so on…
That's it. One more week of Project Simplify to go… I can say it has me going and doing things I would never normally do!!! Let's see what Monday brings and hopefully it isn't cleaning the oven – because that is another "little" project that I really don't have on my immediate agenda!!!