One thing about having se7en kids is people expect you to be late for everything and I mean everything. Now I hate being late. Because there are se7en kids with us people tend to notice if we are (I can't think why!), so I make the effort to get where we need to be on time, every time.
I thought I would show you how we are always good to go…
I have to say, our secret to being organized is keeping like things together – forget about everyone keeping their stuff in their spot, when we need to go we need to go…
So here is our version of the launch pad:
Firstly, in a culture where shoes are not really a priority (I am not kidding – many South African children never wear shoes – not even to school). It is quite easy to keep them all in one place – we don't have a whole lot of them!
And water bottles are filled and ready on the fridge door.
So grab your shoes and your water and the relevant bag. All our bags are always packed and ready for action. Now, bag filling is not a special hobby of mine – the bags are packed just once and they stay packed. Thats where the items belong, so that is where the contents stay. If anything gets added to the bag while we are out and about, well it is whipped out before the bag is packed away when we get home.
Let's get to the bags:
Bag #1: The Beach Bag.
Couple of buckets, couple of spades and a beach ball. Done! Never have to look for things because thats where they belong.
Bag #2: The Swimming Bag.
If we swim at home or away, it makes no difference… the stuff belongs in the bag. All the towels and all the costumes in a wet bag. when we arrive home with a wet bag all the towels get hung on hooks to dry and as soon as they are dry they get packed back in the bag.
Bag #3: The Sport Bag.
Everyone does the same sport – there are no choices here!!! Luckily they all love the same sports (cricket in summer and soccer in winter)… So this is how it works… the dirty clothes go into the washer when they get home, then when they come out of the washer they get piled in each persons pile and packed per person back into the bag, ready for next week. Helpful tip: How do you tell four caps and four pairs of white shorts and four of the same t-shirts and four pairs of white socks into different kids? Label the biggest kid's clothes with one dot, the next kid with two dots and so on… then when its time to hand the clothes down… just add another dot.
Bag #4: The Father Person's Gym Bag.
Like the kids sport bag his gym things go from the laundry pile folded and back into the bag. I think if he had to scrounge around his cupboard to find his shorts, towel and so on – he may actually never ever get there. This bag is not home, it is out on an outing, No photograph, it is actually in use, right now!!!
Bag #5: Library Baskets.
The Library outing is mine. I wrote about it in The Week that Still is… I claim it. The books live in the baskets behind the couch and may only be read in the lounge. When you are done the books go back in the basket. On library day I pick up the baskets and go.
Bag #6: Bible Basket.
This is packed with everyone's Bibles and ready for Sunday – our most hectic day of the week… We need to be up and out the door early… and just remember we are home schoolers and very rarely have to be up and out the door at the crack. Also to get nine spots in a row (I do not want lone children scattered around the church it could be disastrous) – cram these guys into one pew – we have to be there timeously!
Bag #7: The Nappy Bag.
Pitty the person that ever grabs my bag – in the hopes of making a quick buck! Here it is. It has two nappies/diapers and wet wipes. A change of trousers for the kid still in nappies/diapers and a onsie for Hood #7. Also a receiving blanket, which is always handy. Otherwise, it contains live entertainment: juggling balls; bubbles; a card game; a hooter (can call my kids anywhere with this!); Two moleskins, one for blog ideas and one packed with lists: to do, birthdays, clothes/shoe sizes; a pencil for the notebooks; a marking pen (you have no idea how often I need this); a pray for China list… and three books to read aloud to eager ears – these books are favorites and never really change, familiarity is the name of this game.
All my kids totally love this book, I guess knowledge isn't age specific. They love finding out how to survive a shark attack or what to do if your parachute doesn't open (why there is a need to know here I just can not understand).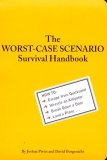 This book was a special gift to our kids about se7en years ago and I have read it at least three times a week ever since.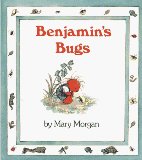 What can I say, our children have excellent taste in books.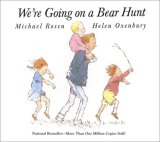 And where do we keep all the bags… at our front door we have two old boxes for sitting on, reading on, watching the sea on and so on! One has old cushions and blankets for outdoor construction and the other has the bags – ready to grab and go.
So that's it everything stays packed to avoid the last minute scurry. That's it that's how we get out the door in time.
Now if we could just get some people, you know those really short people, to believe that the outing is not actually getting into the car… there is really more to outings than getting in the car guys – really, really, really!!!
For more tips on absolutely anything head over to Works For Me Wednesday.